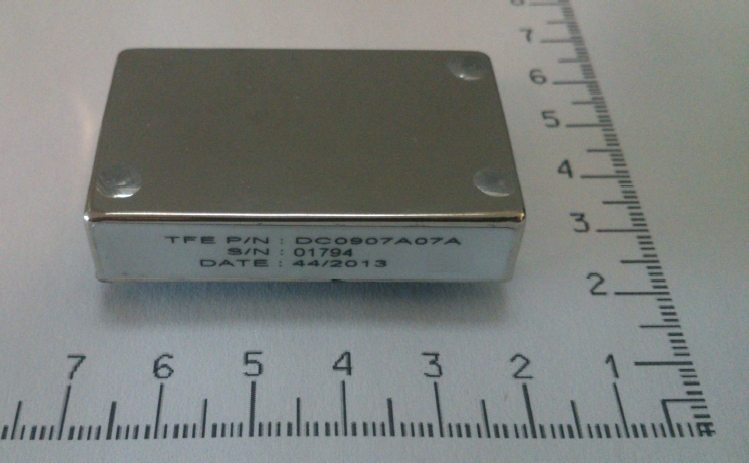 From 28 Vdc aircraft network, the converter aims to provide 18 V and 5 V isolated outputs to supply internal integrated control panel subassemblies.
The first subassembly is dedicated to perform power transfer from converter primary side towards secondary galvanically isolated side of converter. This power transfer is made by mean of switching isolated structure built around a high frequency power transformer.
The second subassembly is dedicated to perform converter outputs protection function and to generate 18 V output by mean of linear regulator.
Overheat protection is however available on power subassembly as major power losses will occur at this level linked to energy conversion.
On assemblies current limitations are available in case of output overload or short circuit; 18 V output has its own current limitation in order not to impact 5 V generation in case of output overload and 5 V output has its current limitation impacting primary to secondary energy transfer and so might have an impact on 18V generation performance in case of overload on 5 V output.
This DC/DC converter is certified for DO-254 Design Assurance Level B
28 Volts direct current (Vdc) input
Protection of DC power sources
Galvanic isolation
Level B certification D0254
Airbus civil aircraft (A350)
Output
Output power 20W
+5V ±1% up to 1A max rated current
+18V ±3% up to 830 mA max rated current
Efficiency > 83% @ 24V input voltage and max output current
Overload limitation at 120% max rated output current on both
power outputs
Over/under voltage hiccup protection
Short circuit hiccup protection
On/off on 18 V
Temperature
-40°C to +70°C (normal operating conditions)
Note: Due to continuous process improvement, specifications are subject to change without notice