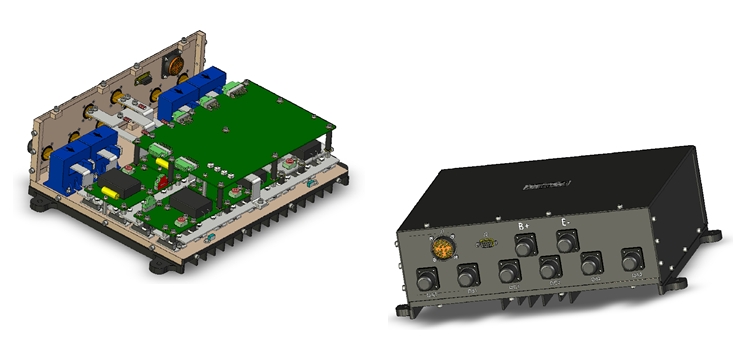 APS sensorless BLDC drive feeds the DC brushless permanent magnet motor with sine alternative current derived from a DC power source. Suppression of the position sensor allows the use of permanent magnet motor in harsh environment reducing the number of wires and connectors and allowing high temperature and high pressure operation.
Sine current feeding allows high speed operation and maximum efficiency with motor fit with sine air-gap flux density.
Also suitable for back-CFM motors.
Indirect sensor technic is used with field oriented control schemes (FOCS) using Kalman filter algorithm and fast DSP (Digital Signal Processor).
Starting strategies allow high torque to start with rotor initial position setting or soft low torque to start using a blind start (low frequency) operation mode.
Power Supply: 16 to 32 VDC
Output: 100 to 500 A
UAV Engines Starters
Helicopters Engines Starters
Bizjet Engines Starters
Input characteristics
28 to 450 VDC
Switching Frequency
16kHz or 33kHz
Digital Control Architecture DSP & FPGA
EMI Compliant (ML,EN, ABD)
Colling
Natural convetion
Size for 11Kva
405x325x125 mm
UAV Engine Starter
Cessna
Note: Due to continuous process improvement, specifications are subject to change without notice