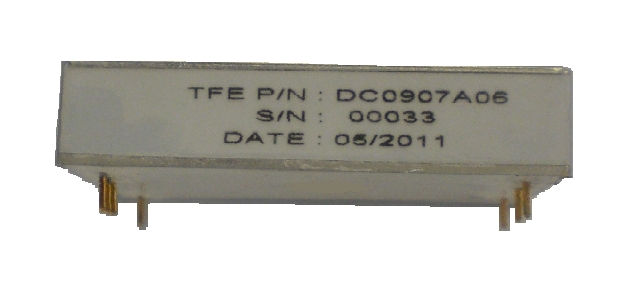 From 28Vdc aircraft network, converter aim to provide 18V and 5V outputs to supply internal Integrated Control Panel subassemblies.
The first subassembly is dedicated to perform power transfer from converter primary side towards secondary galvanically isolated side of converter. This power transfer is made by mean of switching isolated structure built around a high frequency power transformer.
The second subassembly is dedicated to perform converter outputs protection function and to generate 18V output by mean of linear regulator.
Overheat protection is however available on power subassembly as major power losses will occur at this level linked to energy conversion.
On assemblies are available current limitations in case of output overload or short circuit; 18V output has its own current limitation in order to not impact 5V generation in case of output overload and 5V output has its current limitation impacting primary to secondary energy transfer and so might have an impact on 18V generation performance in case of overload on 5V output.
Electrical Characteristics
Input voltage : 28VDC Aircraft Network as per ABD0100.1.8
Output Power : 20W
Outputs : +5V ±1% up to 1A max rated current +18V ±3% up to 830 mA max rated current
Efficiency > 83% @ 24V input voltage and max output current
Overload limitation at 120% max rated output current on both power outputs
Over/under voltage hiccup protection
Short circuit hiccup protection
On/Off on 18V
Aircraft Standard Requirement
DO254 level B
RTCA / D0160D
ABD100.1.8
---